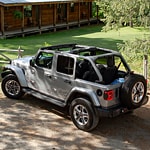 The interior of the Jeep Wrangler offers exceptional interior features for people who love off-roading! If you want a vehicle that works great off-road and makes sure it is easy to keep clean, the Wrangler is a wonderful option.
At Kyners Auto Sales, we love to show off the interior one-way floor drains! A Jeep full of mud, dirt, and debris is no problem when you can just wash it all out. Remove the carpet in your Wrangler before you go through a mess when you're off-roading, and then hose out the Wrangler when you're done!
Having a locking glove box is a useful and safe interior feature. If you take the top and doors off, your paperwork and smaller items are still clean and safe. The locking feature is excellent for stopping gas or groceries in town, and it gives you peace of mind that your items are safer.