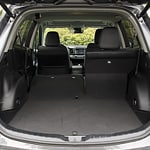 Crossover vehicles offer a number of benefits not found in their full-size counterparts. If you wonder why you should invest in a crossover for yourself and your family, these advantages can convince you to make the switch today.
To start, they are more efficient to drive than full-size vehicles. Their compact dimensions spares them from the exertion that it takes to run. You end up spending less money on gas, which can be particularly important when gas prices soar. Crossovers also comes with some of the most innovative body styles in the industry. They typically have sleek, streamlined bodies and rounded features. They combine the appeal of a sports car with the space and performance of a larger size truck or sports utility vehicle.
Finally, many crossovers have impressive towing and hauling capacities. They can be used to tow small trailers and even recreational vehicles like UTVs with considerable ease.