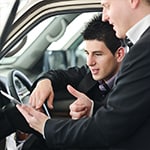 Look over your finances before purchasing a car. When the time comes to decide on a used model, that bit of advice could help people dramatically. Monthly payments, maintenance, and fuel all factor into the expenses. Someone spending time researching reviews and consumer reports will find the right choice. And the selection also includes selecting a most fitting car. A driver living in a mild climate might not need all-wheel drive, but others may find this feature indispensable.
Car buyers also have to look beyond general information and focus like a laser on the specific model up for sale. The vehicle may have a car history report, and that report is essential to read. You need to know facts about the model's maintenance history.
And shoppers must close the deal well. Negotiating a price becomes an integral part of the sale. Prepare yourself, so you are happy with the outcome.
Going on a test drive also delivers valuable information. At Kyners Auto Sales, we are pleased to let you test a used car on Chambersburg roads.